Advisory Board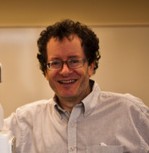 Gary Bradski
Dr. Gary Rost Bradski holds a joint appointment as Consulting Professor in Stanford University's Computer Sciences Department where he teaches a course in Robot Perception. He has 69 publications and 32 patents. Dr. Bradski founded and directs the Open Source Computer Vision Library (OpenCV), now a non-profit foundation, that is used globally in research, government and commercial applications with over 5M downloads to date. He led the computer vision team for Stanley, the Stanford robot that won the $2M DARPA Grand Challenge and more recently he helped in the founding of the Stanford Artificial Intelligence Robot (STAIR) project under the leadership of Professor Andrew Ng. Dr. Bradski published a book for O'Reilly Press: Learning OpenCV: Computer Vision with the OpenCV Library which has been the best selling text in computer vision and machine learning for 3 years now.
Darrell Miller
Filmmaker Darrell Miller has been producing adrenalized mountain films in Jackson Hole since the mid-'90s. His award-winning production company, Storm Show Studios, has produced 11 feature-length films, two of which landed coveted spots on The Ski Channel's "Top 100 Ski Films Of All Time." His films have also received numerous "Best Of" accolades from the Powder Video Awards and the Cold Smoke Awards, and have been featured on The Ski Channel, Fox Sports Net, Resort Sports Network, Snowboard Canada Magazine, Powder Magazine, and Skiing Magazine, among others.
Local as it gets, Darrell Miller grew up in the Jackson Hole region and has spent 30+ years skiing the area's jagged peaks amongst the pioneers of ski mountaineering. He has witnessed the sport grow from free-riding to jibbing to exposed ski-descents in the Himalayan-scale Teton Range and has been capturing it on film for the last decade.
John J.A. Jannone
John J.A. Jannone makes and studies noises, pictures, and stories; and is particularly interested in noises, pictures, and stories which somehow involve electricity, numbers, and people. He is an Associate Professor at Brooklyn College, and designed the College's two graduate programs in Performance and Interactive Media Arts (PIMA) which he directed through the spring of 2008. He currently co-coordinates the MFA program in television production. He is the recipient of numerous grants, including National Science Foundation Major Research Instrumentation and CreativeIT grants. His current research interest is the psychology of collaboration, specifically the sensation of conscious will during the collaborative process. John co-directs two summer camps for children: Camp Ballibay for the Fine and Performing Arts, and The Farm Arts Camp. He believes in providing kids and adults with delicious food prepared from scratch using local, seasonal, and sustainably produced ingredients. He spent the summer of 2009 working with incredible collaborators at the camps to provide this sort of foodservice to the camp community. He has also been known to play Capoeira. He has two incredible young sons, Cairo and Marcel.